Travis Kelce's Nieces Wyatt and Elliotte Make an Adorable Cameo on His Podcast: Watch
Travis Kelce's Nieces Wyatt and Elliotte Make an Adorable Cameo on His Podcast: Watch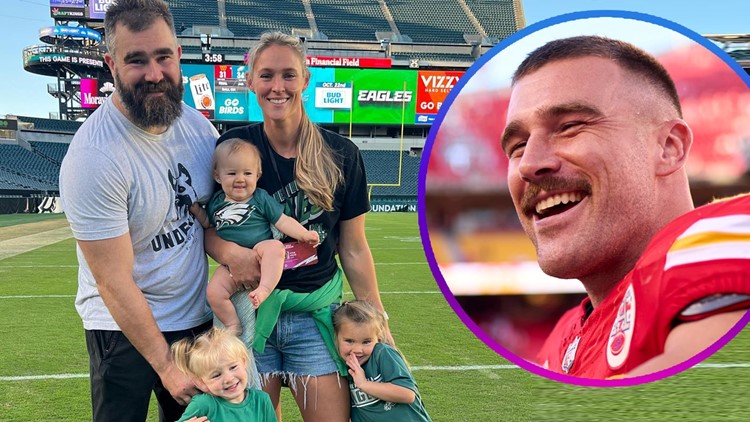 Uncle Trav time! On this week's episode of the New Heights podcast, hosted by Travis and Jason Kelce, the NFL stars had two very special guests.
In a clip shared on the New Heights Instagram, Jason and his wife Kylie's oldest daughters — Elliotte, 2, and Wyatt, 4 — had a sweet moment with their uncle.
"Wyatt asked if she could say hi," Jason tells his brother before he puts his little girl on his lap.
"Hi, Uncle Trav," Wyatt exclaims.
"What's up, girly? How are you doing?" Travis asks. "How was gymnastics?"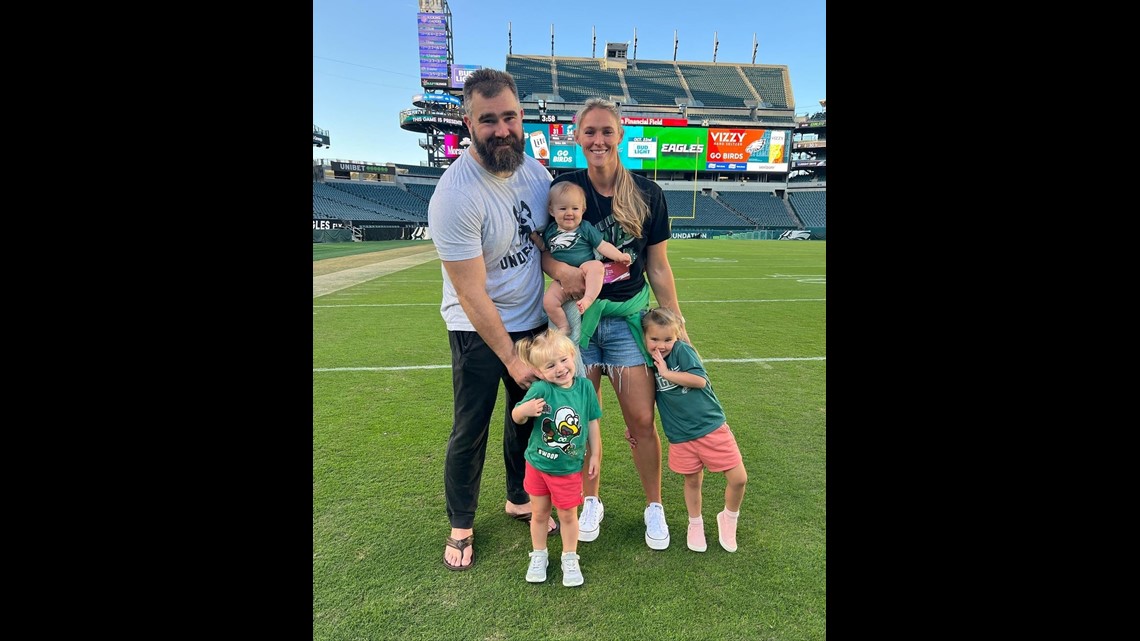 Instagram/kykelce
Equally as excited about the moment, Jason tells Wyatt to tell Travis what she is wearing.
"A leotard," she says.
Travis also mentions Wyatt's fun moment, where she got excited over A.J. Brown's pink cleats — which her mom documented on social media.
The fun with the girls didn't stop there as Jason then lifts up Elliotte, who can't stop smiling as she looks at her uncle.
"You're smiling big. You're making my day," Travis tells the excited tot.
Before she makes her exit off the frame, Jason holds Elliottte up so that her uncle can see her cute accessory.
"Movie star," Jason exclaims as she holds up little Ellie.
Jason, 35, and Kylie, are also parents of 7-month-old Bennett, who didn't make a cameo on the podcast.
Over the weekend, Kylie shared a video of Wyatt watching her dad and the Philadelphia Eagles play. In the clip, she officially declared her daughter a "Swiftie," a nod to Travis' rumored girlfriend, Taylor Swift.
In the caption, Kylie wrote, "Just another swiftie tryna learn football, or a kid tryna avoid a nap. Who knows?"
Wyatt recently celebrated her fourth birthday and her dad and uncle couldn't help but gush over the sweet gift she received.
"She loves the camera you got her," Jason told Travis, 34, who was delighted by the news, saying, "Let's go!"
"There's nothing cooler than a little kid going around snapping pics on a Polaroid. Did she take any yet?" Travis asked.
"She has. We got a bunch of them lying around. She took a bunch at her birthday party Saturday. Papa Kelce was sitting with her, showing how to work it," Jason, 35, replied of his and Travis' dad, Ed Kelce. "It was awesome."
"All right, Big Ed. Getting in there!" Travis chimed in.