Video: LaMelo Ball's terrible collision caused Jrue Holiday to hit the ground in an embarrassing position, fans: Oh my God!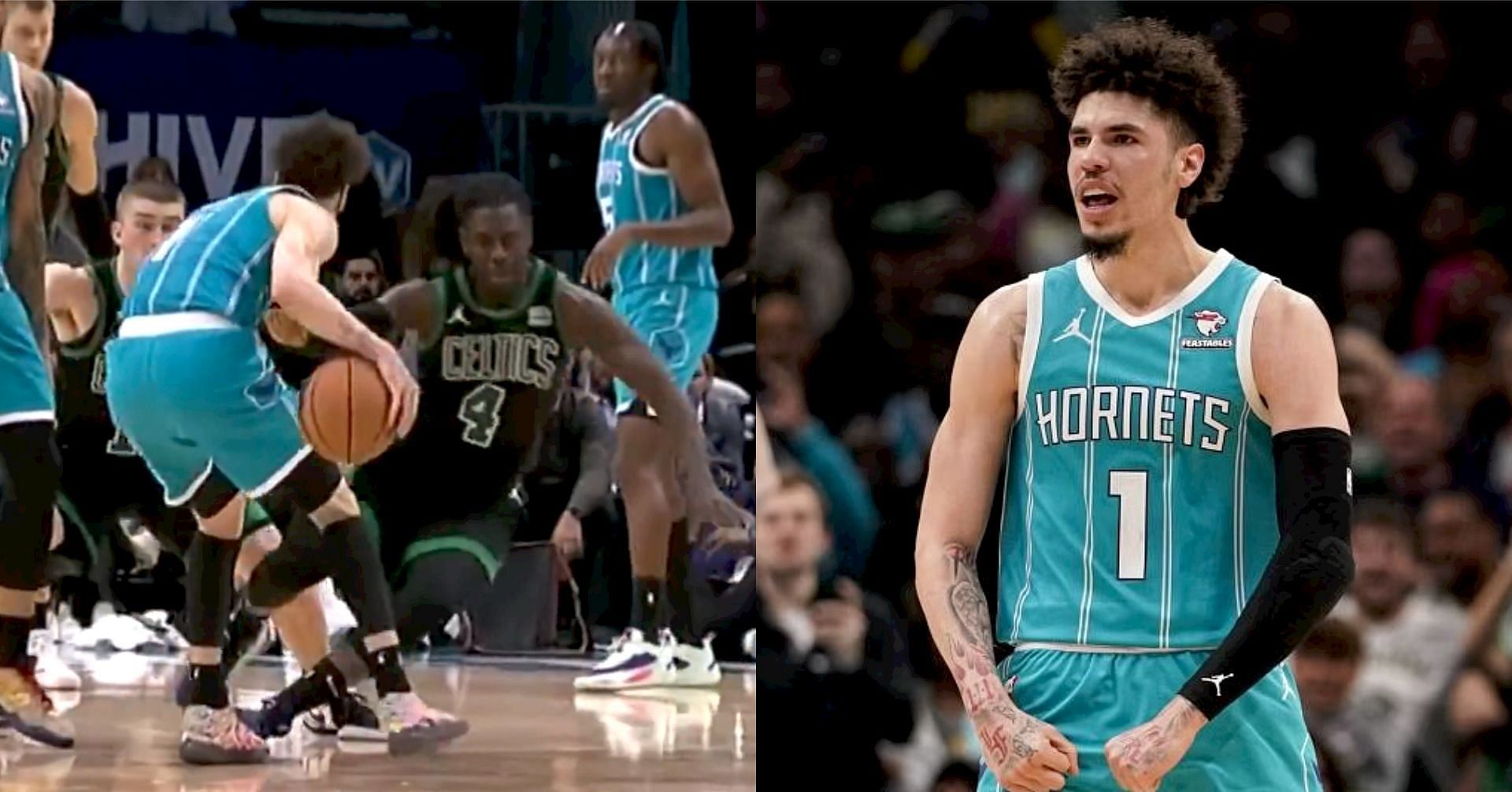 LaMelo Ball makes Jrue Holiday touch earth with nasty crossover
Charlotte Hornets star point guard LaMelo Ball put on a show during the Hornets' 121-118 overtime victory over the Boston Celtics on Monday.
This includes in OT when Ball made Celtics star guard Jrue Holiday touch earth on a nasty crossover.
Ball was being defended by Holiday at the top of the arc when he initiated the crossover.
He may have gotten away with a push-off. Nonetheless, the move sent the defensive-minded Celtics guard tumbling to the ground.
After evading Holiday, Ball proceeded to take the ball straight to the rim for a smooth left-handed layup.
The layup marked two of Ball's team-high 36 points on 55.6% shooting. He also recorded nine rebounds, eight assists, two steals, one block and five 3-pointers.
Check out Ball's crossover below:
LAMELO BALL DROPS JRUE HOLIDAY 😳 pic.twitter.com/4J7lveb5BC

— SportsCenter (@SportsCenter) November 21, 2023
LaMelo Ball leads Hornets to upset win over Celtics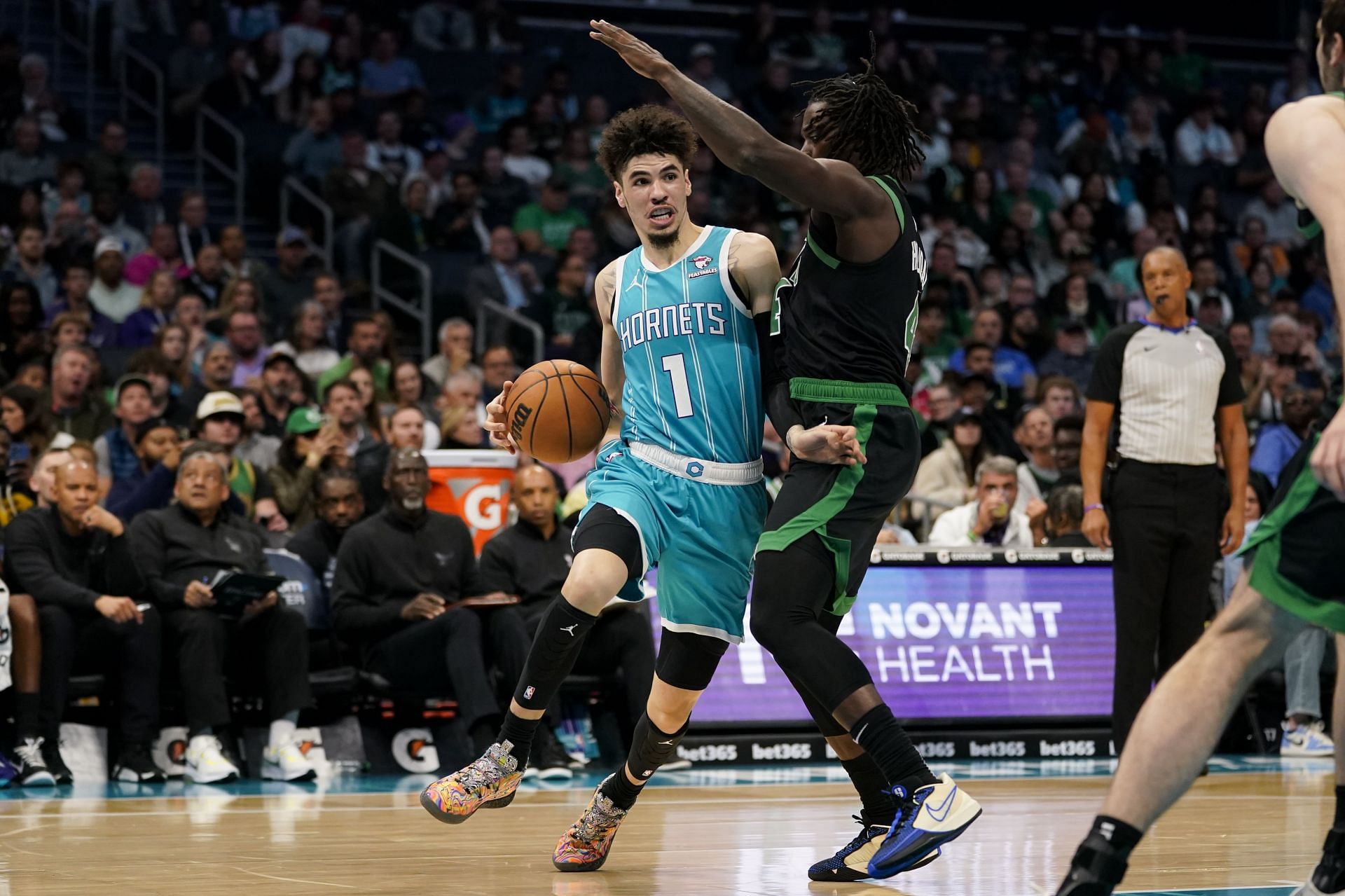 Charlotte Hornets star point guard LaMelo Ball
Charlotte trailed by as many as 18 points before rallying to force overtime against Boston on Monday. In OT, LaMelo Ball and the Hornets then came up big down the stretch to complete the comeback.
While Ball was Charlotte's best player, his teammate, Miles Bridges, hit the most important shot of the game. With the score tied 116-116 with 6.6 seconds remaining in OT, Ball found Bridges for a deep 3-pointer to give the Hornets a 119-116 lead.
Boston later had a chance to tie the game, as Celtics superstar forward Jayson Tatum was fouled on a 3-point attempt with 5.2 seconds remaining. However, after converting on the first of two free throws, Tatum missed the third and Charlotte held on for the victory.
Celtics-Hornets ending was WILD 😳

Miles Bridges hit a clutch 3 but Tatum missed the game-tying FT. pic.twitter.com/O3uhUNnddp

— Bleacher Report (@BleacherReport) November 21, 2023
Tatum finished with a game-high 45 points, 13 rebounds, six assists, two blocks and seven-3-pointers on 53.6% shooting. However, his season-best performance came in vain, as Boston came up short.
The Hornets' win halted their four-game skid, while the Celtics' loss ended their six-game winning streak.
After the game, Bridges spoke about how the Hornets' signature win could mark a turning point in their season:
"I feel like this could be the turnaround game for us," Bridges said.
"I feel like this is the game that could get us going, get us playing at our potential, and we're getting guys back, so I feel like we're starting to get better."
"I feel like this could be a turn around game for us."

Miles Bridges talks with @ashahahmadi about the game winning shot and the @hornets huge overtime win over the Celtics.#LetsFly35 pic.twitter.com/7Nv2ICdBfL

— Bally Sports: Hornets (@HornetsOnBally) November 21, 2023
Up next for Charlotte (4-9) is a matchup against the Washington Wizards (2-11) at home on Wednesday. Given the Wizards' recent struggles (six-game losing streak), the game should mark a prime opportunity for the Hornets to secure their second straight win.
Meanwhile, Boston (11-3) will face a much tougher foe in its next game against the Milwaukee Bucks (10-4) at home on Wednesday. The Bucks have won their last five games.